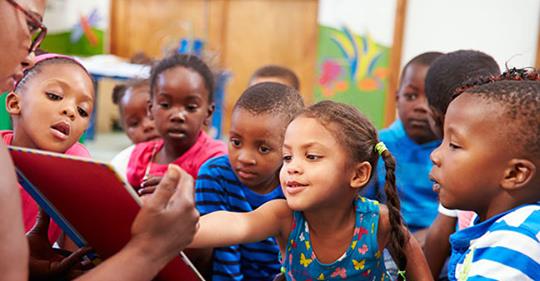 A new bill could throw a lifeline to large numbers of underrecognized and underserved NYC students. It requires the NYC Department of Education to create more Gifted and Talented (G&T) programs and classes and New York parents need to contact their state senators right away to urge them to support it.
As a former NYC Superintendent, I expanded G&T classes in my district. An anxious bureaucrat from the central office called me: "You can't just open up G&T classes on your own," he said. "Really?" I feigned ignorant surprise: "I did not know that. If you could send me the regulation that restricts the expansion of G&T classes, it would be helpful when I explain to the parents in the new G&T schools why I must dismantle their G&T classes!" It's 2018, and I am still waiting for that regulation memo from that nervous NYCDOE bureaucrat!
An opportunity can emerge as the result of a crisis—in this case, basing an 8th-grader's admittance (or not) to one of the NYC Specialized High Schools (SHS) on a single exam, the Specialized High Schools Admissions Test (SHSAT). One problem is the small number of Black and Latin students who are admitted to SHS and the test is being portrayed by some as the culprit. I made my position clear in an earlier OTP column as to why I see Black and Latino poor performance on the SHSAT as a symptom and not a cause. So I won't repeat that argument here.
But I do believe that state Sen. Tony Avella's bill (S9141A) is an opportunity for parents living in neighborhoods where the schools are not meeting the diverse academic needs of their children. Those students who are performing on or above grade level, including non-wealthy white children, may also want to read this bill and get behind their state senator on it. It's not ot early to become an advocate!
All students need to be pushed to their academically "personal best" selves and struggling learners need all of the support that the school system can muster. But students who are meeting, and/or above grade level learning standards are students, too! And it must be frustrating for their parents to not see their children being pushed to their personal intellectual best.
S9141A, at the very least, honestly gets at the real causes of the SHS diversity problem (and it's not Asian students!). The 800-lb. political problem in the room is the inequality of access to quality K-8 school learning experiences, the absence of G&T programs in designated ("G&T deserts") parts of the city, and individual Title 1 schools not effectively responding to the Educationally Savvy and Informationally Rich Parent Resource Gap!
I am not a NYS Senator, but I do have a few recommended "amendments" to the bill:
That the state and city seriously (not symbolically) fund a comprehensive K-8 SHSAT Pipeline Program:
Allow for "quality numbers" of on and above grade level students in all elementary and middle schools in the city to be exposed to classes taught by G&T teachers professionally developed and eventually certified in G&T techniques. Invest in a resources-rich G&T Science, Technology, Reading, Engineering, Arts and Mathematics (STREAM) curriculum. I would send the best of these teachers to serve in the lowest-performing schools, the schools producing the smallest number of viable SHS candidates, those districts and schools with the highest number of Title 1/ELL/ESL students. I would pay all G&T certified teachers a bonus pay scale above their regular pay!
Provide these students with the type of after-school, weekend and summer SHSAT test Prep Programs (academies) we developed in CSD29Q in partnership with Princeton Review. There are a lot of test-prep companies which already have a bank of knowledge on the "technology of test-taking." There is no mystery to helping students to do well on standardized exams. You combine good test-taking techniques with a rigorous and standards-based daily school instructional program and administer in school-classroom exams that mirror the standardized exam (in this case the SHSAT) in difficulty and language, then the student's test performance scores will predictably improve.
Create (don't rely on parents) opportunities for these students to engage in quality informal (out-of-school) educational experiences including such things as: independent reading for fun, creative writing, visual, graphics, instrumental, dance and the performing arts classes; STEM, chess, "nonstereotypical" sports (e.g., gymnastics, fencing & archery) programs; weekly trips to cultural institutions, museums, the opera, dramatic plays, dance and music performances.
Passing Senate Bill S9141A, along with my "amendments," would allow Black and Latino students to hold their "academic own" with any and all students in the city.
But there are additional benefits: Students who emerge from a real SHSAT Pipeline Program will be higher academically performing high school students even if they, by test score or choice, don't attend a Specialized High School. Quality H.S. graduation rates citywide would dramatically increase. Senate Bill S9141A, a response to a political crisis, could actually create the opportunity for the introduction of a real high academic achievement diversity movement in the NYC school system.
Reprint From 8/13/2018, Our Time Press:
http://www.ourtimepress.com/support-bill-for-new-gifted-and-talented-programs/
Michael A. Johnson has served as a Public Schoolteacher, Science Skills Center director, principal and a school district superintendent. He also served as an adjunct professor of Science Education in the School of Education at St. John's University. He recently published a book on school leadership: "Report to the Principal's Office: Tools for Building Successful High School Administrative Leadership"… http://reporttotheprincipalsoffice.net/